Xeikon NV (XEI: AEX) is an innovator in digital-printing technology. The company designs, develops, and delivers web-fed digital color presses for labels and packagingapplications, document printing, as well ascommercial printing. These presses utilize LED-array-based, dry-toner electrophotography, open workflow software, and application-specific toners.
basysPrint
As an OEM supplier, Xeikon designs and produces platemakers for newspaper offset-printing applications. Xeikon also manufacturesbasysPrint computer-to-plate (CtP) solutions for the commercial-printing market. These proven CtP systems combine the latest exposure techniques with cost-efficient UV plate technology, high imaging quality, and flexibility.
ThermoFlexX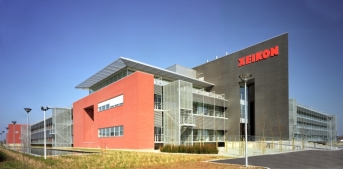 For the flexographic market, Xeikon offers digital platemaking systems under the ThermoFlexX brand name. ThermoFlexX systems provide high-resolution plate exposure including screening, color management, as well as workflow management.
All the Xeikon solutions are designed with the overarching principles of profitability, quality, flexibility and sustainability in mind. With these guiding principles and a deep, intimate knowledge of its customers, Xeikon continues to be one of the industry's leading innovators of products and solutions.
Customer service is key
As experts in digital color printing, Xeikon realizes that in an industry where technology and innovation are the driving forces, performance is measured by one criterion only: customer satisfaction. So when digital-printing businesses choose us as their provider, we make sure that our people do their absolute best to satisfy that customer's needs.
Even though Xeikon's customer base is highly diversified, Xeikon users have one important trait in common; they are all dedicated to delivering impeccable print quality. Xeikon targets the high-end segment of the digital-printing market with printing presses that, without exception, deliver excellent print quality and systematically score better than competing products in productivity and cost effectiveness. We know we are performing as promised when we can see a look of true satisfaction on our customer's face.
We meet your needs
Digital printing opens a whole range of new business opportunities. Harnessing the full power of this way of printing is only possible when your digital equipment is seamlessly and truly integrated into your business environment.
With Xeikon, you'll find the ideal application and integration partner.Together analyze your business opportunities to develop an implementation plan that meets your specifications. This plan can include pre- and post-finishing equipment as well as specific software and hardware developments.
At Xeikon, we know that every customer is unique.