ThermoFlexX
ThermoFlexX Imagers for Flexographic and Letterpress Platemaking
As a complement to the Xeikon 3500, Xeikon 3300, Xeikon 3050, and Xeikon 3030 digitallabels and packaging presses, Xeikon now offers ThermoFlexX, a new product line of reliable, high-quality digital imagers from Xeikon for flexographic platemaking.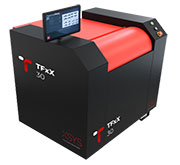 Comprising leading-edge hardware and workflow software, the ThermoFlexX product line of imagers is based upon mature technology and proven digital-workflow solutions. ThermoFlexX enables customers to consistently produce high-quality digital flexographic andletterpress plates at resolutions of 2540 or 5080 DPI. With this resolution, the product is technology-ready to raise the quality level of output to the newest industry standards.
ThermoFlexX provides a range of unique benefits, including:
Ergonomic plate mounting
Hybrid drum holds plates in place by vacuum or magnetics
Advanced clamping design enables plates to be mounted directly on to the drum
Uniquely designed vacuum sliders offer the flexibility to use plates of any width.
In addition, the Kodak PRINERGY® Workflow provides the packaging workflow component of ThermoFlexX ensuring that Xeikon customers are purchasing a total solution for their digital or conventional labels and packaging printing.
The market-leading PRINERGY Workflow delivers outstanding performance and reliability, along with best-in-class productivity, connectivity, and automation for exceptional efficiency throughout the packaging-production process.
PRINERGY Workflow is designed to automate prepress processes from file creation to finished product. This functionality has been incorporated into Xeikon's ThermoFlexX portfolio, which also includes imposition, trapping, RIP, screening, and final assembly of the 1-bit TIFFs. PRINERGY Workflow's advanced rules-based automation is an integral part of the workflow solution.
Xeikon's worldwide service network provides local support for the full range of ThermoFlexX and PRINERGY Workflow solutions.